Progress Reports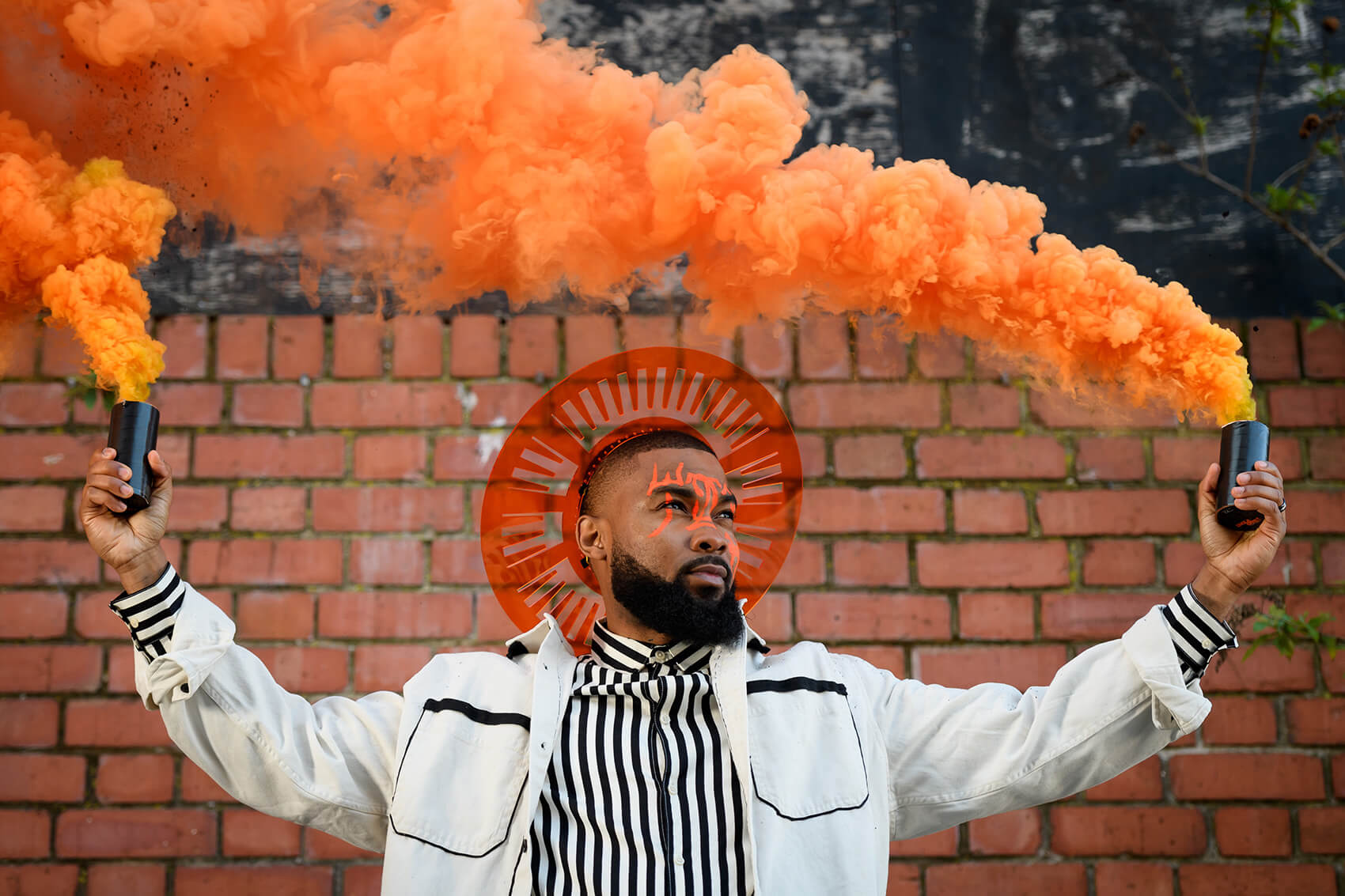 Coventry Moves, John Bernard – Youthfulness – (Photograph: FiveSix Photography)
Background
Following the development of the Coventry UK City of Culture (UK CoC 2021) Performance Measurement and Evaluation Strategy, the monitoring and evaluation team produced a series of Progress Reports on the Coventry City of Culture Trust's programme of events that ran from May 2021 until May 2022.
Between May 2020 and June 2021, six quarterly Progress Reports were published that reviewed the organisation of UK CoC 2021 and its initial events.
In January 2022 an Interim Report was published that assessed the activities and results of UK CoC 2021 for the period December 2017 to November 2022.
This was followed in September 2022 by a Supplementary Report that covered the remainder of the UK CoC 2021 year for the period December 2021 to May 2022.
A final evaluation report was published in November 2023 that covered the bidding process, the build-up period, the UK CoC 2021 year and immediate post-year legacy plans.
Interim and Supplementary Reports
Story of Change
Headline Statistics
Participation & Engagement
Economic, Skills & Place Measures
Coventry's Year as UK CoC 2021
Partners and Supporters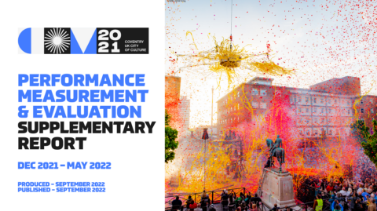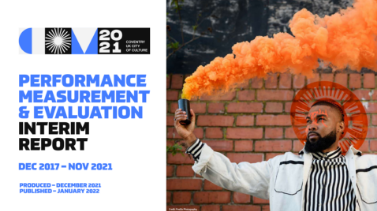 Story of Change
Headline Statistics
Participation & Engagement
Economic, Skills & Place Measures
Interim Progress: Outcomes
Interim Progress: Outputs
Contextual Background
Interim Reflections
Interim Learning Insights
Partners and Supporters
Learning Insight
Alignment with Story of Change
Recruiting Local Talent
Engagement and Audience Headline Statistics
Quarterly Campaign Metrics and Media Value
Producing Team Quarterly Reports to Funders
Timeless Words Made New
Coventry Moves
Economic Impact Assessment
Social Value Assessment
Family Hubs and City of Culture
Health and Wellbeing Data
International Programmes/Work
Summary of Producing Team Quarterly Reports
Theory/Story of Change
Public and Programme Activity including Engagement Numbers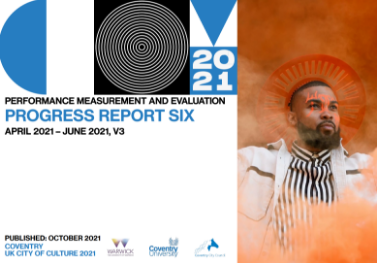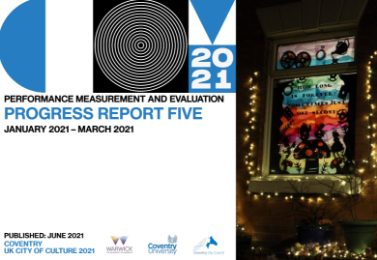 Alignment with Story of Change
Alignment with Coventry Cultural Strategy
Sentiment Survey Headline Findings
Recruiting Local Talent
Engagement and Audience Headline Statistics
Quarterly Campaign Metrics and Media Value
Producing Team Quarterly Reports to Funders
Developing the Monitoring and Evaluation Programme
Learning Insight
Summary of Producing Team Quarterly Reports
Theory/Story of Change
Public and Programme Activity Including Engagement Numbers
Engagement and Audience Headline Statistics
Recruiting Local Talent
Major Events: Coventry Glides
Programme Announcement and Media Value
Other Programme Activity: Culture Conversations
Other Programme Activity: From Cov with Love
Other Programme Activity: The Ministry of Comfort and Joy
Sector Development: City of Culture Leadership Programme
Sector Development: Local Artist Support
Sector Development: Imagineer and Ludic Rooms
Learning Insight
Theory/Story of Change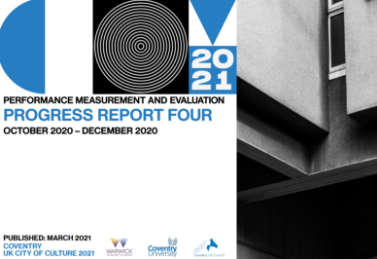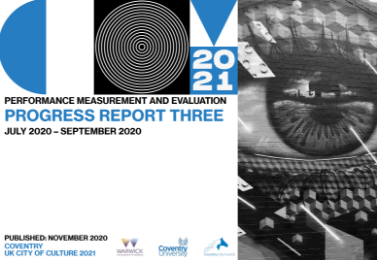 Engagement and Audience Headline Statistics
Outcome: Cultural Leadership and Programming
Reflects and Represents the Citizens of City
Outcome: Community-Led Production and Programming Increases Cultural Participation and Activism
Outcome: There is Increased Understanding, Accessibility and Provision of Career Routes into the Cultural and Creative Sector
Outcome: Collaborative National and International Cultural Programming Increases Coventry and Region's Global Presence
Outcome: Coventry's Model of Culture-led Placemaking Influences Regional and National Policy Making
Outcome: Cultural Sector Activity Makes a Significant Contribution to the Economic, Social, Health and Wellbeing Targets for the City and the Region
Progress Towards Outcomes
Outcome: Community-Led Production and Programming Increases Cultural Participation and Activism
Cultural Conversations
Caring City: Unplugged Series
Caring City: Coventry Welcomes
Collaborative City: 21 Streets of Culture
Dynamic City: Social Distance Art Project
Dynamic City: Youthful Cities/The Future Show
Outcome: Co-ordinated Cultural Sector Capacity and Infrastructure is Building a Sustainable and Resilient Sector
Outcome: There is Increased Understanding, Accessibility and Provision of Career Routes into the Cultural and Creative Sector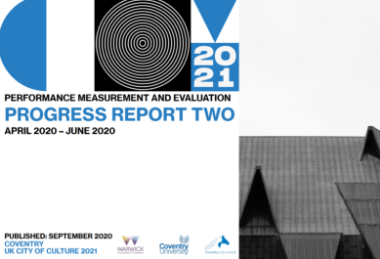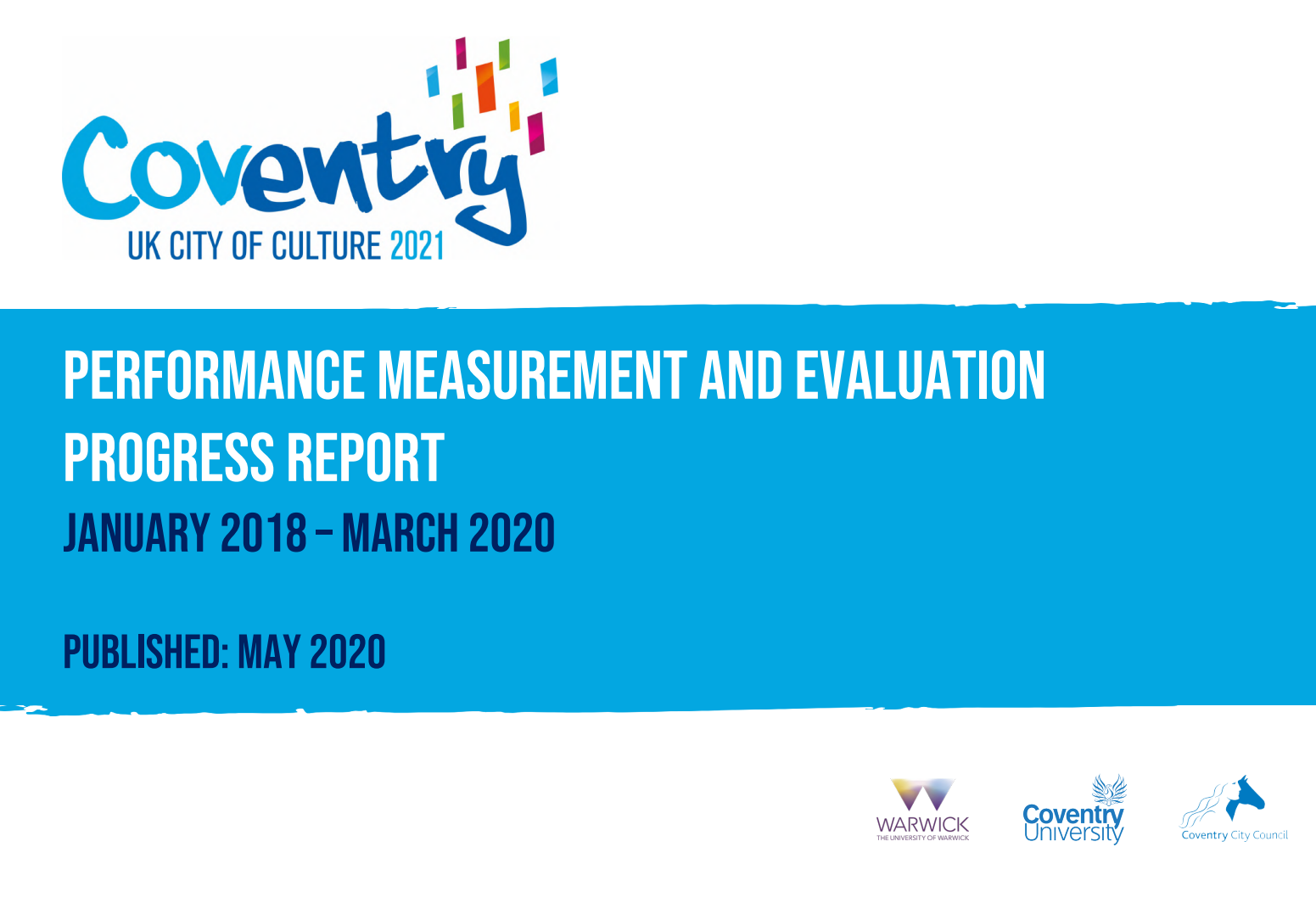 Cultural Leadership and Programming Reflects and Represents the Citizens of the City
Caring City: Feast
Caring City: Brought to Light
Cultural Engagement is Geographically Dispersed Across the City
Collaborative City: Fly the Flag
There is Increased Understanding, Accessibility and Provision of Career Routes into the Cultural and Creative Sector
Coordinated Cultural Sector Capacity and Infrastructure is Building a Sustainable and Resilient Sector
Dynamic City: Carnival of Lights
Dynamic City: Knife Angel