Evaluation Events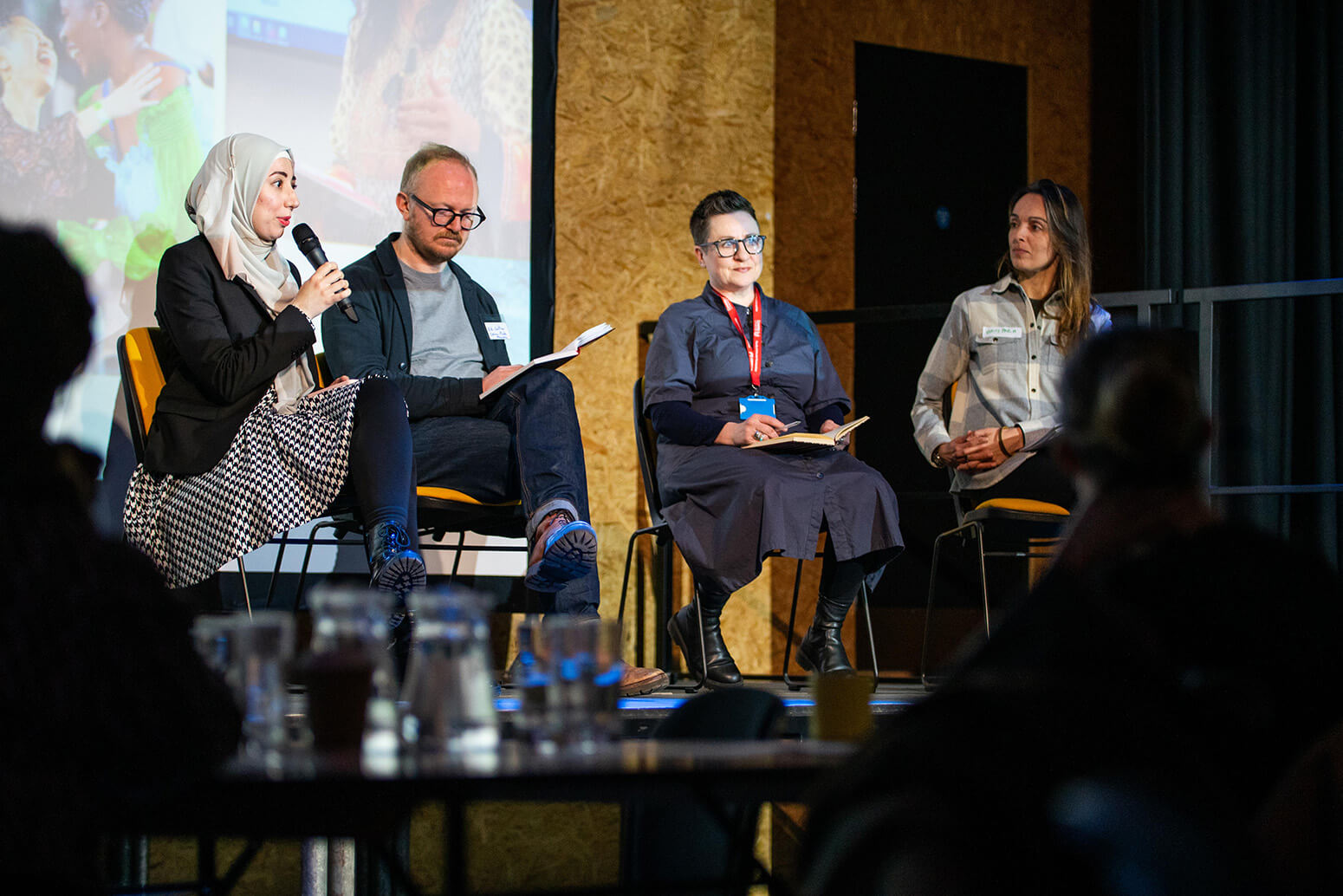 Panel at the Connecting Place event (Photograph: Russell Dixon Photography)
Background
A programme of events was held to exchange monitoring and evaluation knowledge from Coventry UK City of Culture 2021 (UK CoC 2021).
Connecting Place, Culture, Research and Impact
On 3 February 2023, the AHRC UK Cities of Culture project public roundtable, Connecting Place, Culture, Research And Impact, was held at The Box, Fargo Village, Coventry, reflecting upon research and its legacy from UK CoC 2021.
The event showcased some of the innovative research, creative projects and independent UK CoC 2021 evaluation research case studies before discussing 'What's next?'
It did this via a series of café style panel discussions with performances and respondents to animate the conversation and help the audience explore the panel areas. With exhibits, videos and poems that were produced as part of UK CoC 2021, this was an opportunity to both celebrate the year and to look ahead.
Walking Through Coventry Data
On 13 December 2022, at The Reel Store, interested stakeholders were able to 'Walk Through Coventry Data' and learn about the city in a new way through use of data insights, and photographs and videos of Coventry through the years.
Coventry's year as UK CoC 2021 generated an unprecedented amount of data relating to cultural participation, perceptions and engagement. This has made the city a highly rich place for cultural data.
Coventry data, together with images and videos from Coventry Digital, were displayed on the gallery walls to both illustrate the types of data available and provide a new way of understanding the city.
Cultural Policy & Evaluation Summit
An AHRC Cities of Culture Research Network event was hosted by the University of Warwick and Coventry University on 24 and 25 June 2021.
The Cultural Policy & Evaluation Summit, which took place a few weeks into the UK CoC 2021 year,  was designed to bring together local, regional and national cultural leaders to consider the post-pandemic road ahead for cultural mega-events and culture more generally in the context of UK CoC 2021.
There were three main themes to the summit:
Would UK CoC 2021 be a different and distinct UK City of Culture model?
What does it mean to deliver a cultural mega-event in changed times, during Covid-19, and when questions of equality, diversity, inclusion feel paramount?
What does the road ahead need to look like to meet these challenges?
City of Culture Data Webinar
Coventry City Council's Insight team has worked with Warwick Business School Master's students for the past few years to set them specific projects that analysed Coventry's data. In 2022, the monitoring and evaluation team asked that these projects were related to various aspects of UK CoC 2021.
On 5 and 6 September 2022, Coventry City Council staff and other interested Coventry stakeholders, including the academic community, were briefed on the findings from the UK CoC 2021-related cultural data projects.
These Coventry City Council-led presentations outlined the types of data that are available to be used in future planning.