Focus Study: Faith and Culture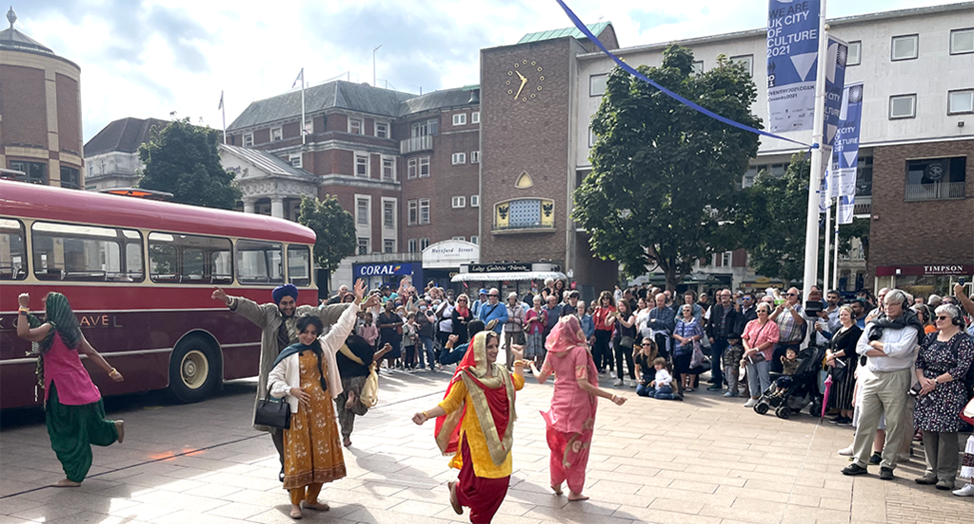 Faith: the Arrival – street play by the Royal Shakespeare Company (Photograph: Dilwar Hussain)
Report and Webinar
The Faith and Culture focus study report was released in February 2023. It is one of a series of focus study reports.
The research team presented its results via a webinar on 28 March 2023.
Research Question
How did programming and cultural leadership engage faith and community groups in Coventry and the region?
Aims
The focus study looked at the faith and cultural dimensions of events and programmes organised as part of Coventry City of Culture (UK CoC 2021).
Cultural programming was used to support faith, as a way of UK CoC 2021 achieving engagement of diverse groups and social outcomes, amongst both long-standing and newer communities in the city, as well as reflecting particular forms of culture.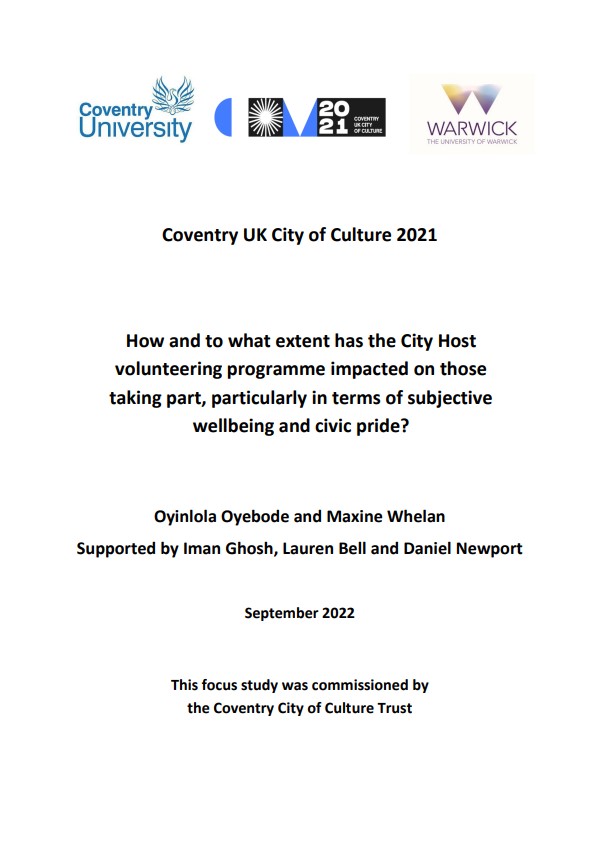 art and culture moves us beyond what pure dialogue would do…the symbolism…values in common are shown…diversity and commonality…a spoken dialogue could be more complicated and take longer…the power of the visual, cuts through.
Interview participant
Approach
This was a qualitative, ethnographic research project. It used a wide range of data collection methods including literature review, participant/event observation, focus groups and interviews. This ensured that participation was possible for people from all walks of life, confidence and English language levels.
The research team spoke to residents, faith and cultural leaders, event organisers, creative directors and producers of events. Seven focus groups were held, including 35 residents (from three religious cohorts and a mixed interfaith group). 21 interviews were conducted during the fieldwork that took place between November 2021 and August 2022.
I attended the parade, and I really enjoyed the carnival atmosphere…Barriers seemed to drop and there was a real sense of unity amongst the crowds.
Interview participant
Findings
The research covered a wide range of topics and drew a number of findings:
Faith and culture were highly visible and strategically significant aspects of UK CoC 2021.
A considerable amount of thought and planning went into the artistic contributions around faith and culture.
Activities helped people to get to know one another, break down barriers and thus had potential for social cohesion and connection.
Celebration, joy and hope was important, especially in light of the pandemic, to have an opportunity to show unity and solidarity.
Participants generally found the variety and diversity of events to be very positive and an easy way to engage with UK CoC 2021.
UK CoC 2021 was perceived as being a catalyst for new events, activities and collaborations, including inspiring younger people into action around community leadership.
I feel that even for a short period we got a snapshot into other people's worlds.
Interview participant
Conclusions
Faith groups were successfully engaged and the City of Culture provided people with a sense of renewed hope and optimism in the city.
The experience showed that faith is an important vehicle for engaging citizens with cultural activities around them (as faith and culture are so interrelated).
Community and stakeholder engagement was well received, as it was seen to demonstrate sensitivity to the needs of diverse communities and thus inspired trust and confidence.