Future Trends: Measuring The Impact of Arts & Culture on Wellbeing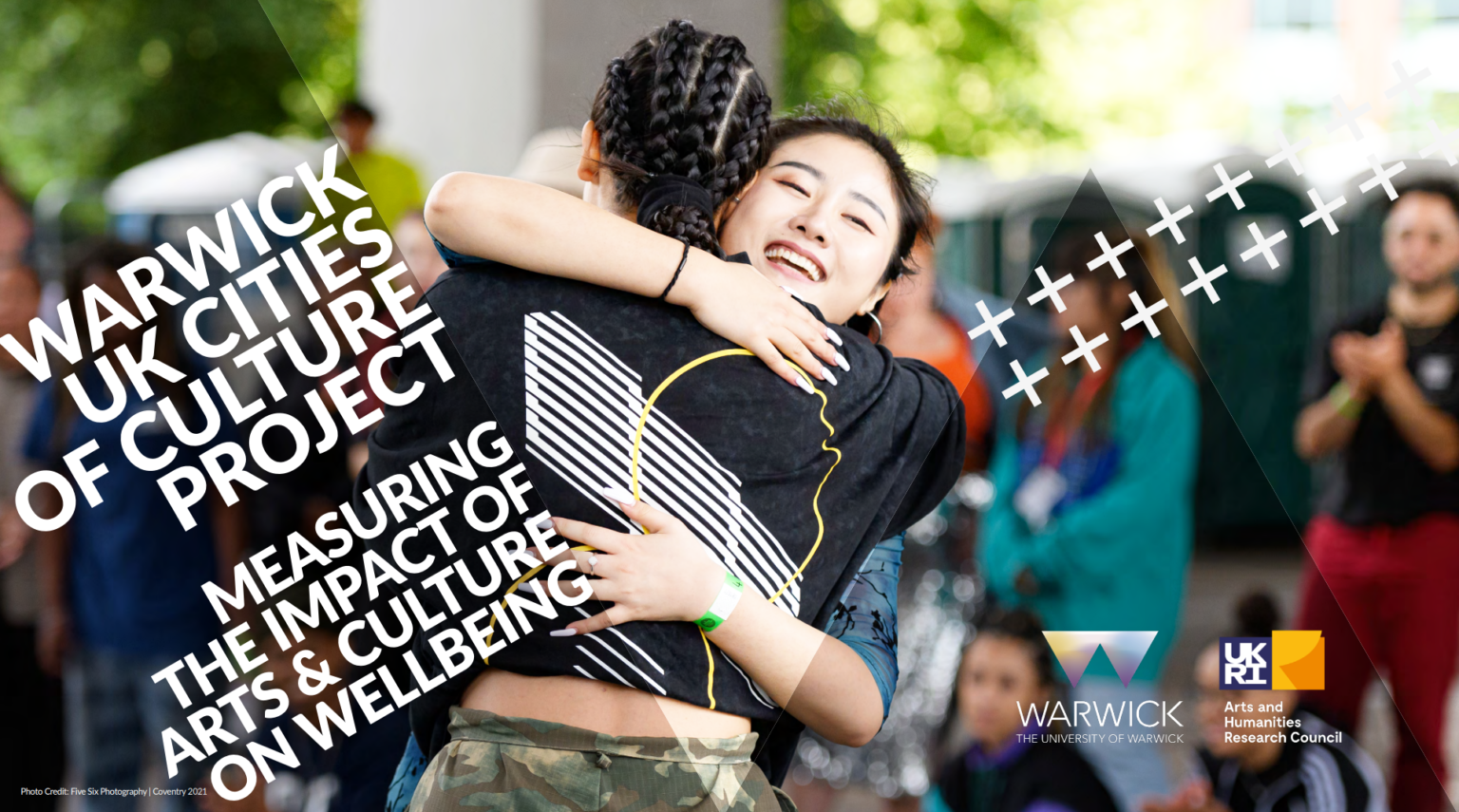 Measuring The Impact Of Arts & Culture On Wellbeing
Future Trends Series
The Future Trends series explores different aspects of Coventry UK City of Culture 2021 (UK CoC 2021). It aims to provide accessible, research-led accounts of issues related and relevant to the development of the UK City of Culture programme.
The paper was released in December 2022.
Summary
As the UK's third City of Culture (UK CoC) has drawn to a close, there is a unique opportunity to reflect on what works to improve wellbeing in place-based arts and culture initiatives and thereby inform policy and investment decisions.
Evaluations of wellbeing interventions constitute a key source of evidence on the drivers of quality of life and social capital. So what does the growing body of evaluation research say about the wellbeing value of arts and culture interventions? What are the factors that enable wellbeing outcomes and reduce social inequalities?
This paper reflects upon key findings from a new rapid review on what works to improve wellbeing in arts and culture interventions, connecting research findings with the priorities of policy-making. It looks ahead to future wellbeing and place-based research, making recommendations on how to generate and sustain wellbeing value creation through arts, culture and heritage interventions
The Future Trends paper explores:
wellbeing as a lens
wellbeing evidence on arts, culture, and heritage
social inequalities and the importance of place
using wellbeing data in policy appraisal
wellbeing and the UK CoC awards
Coventry CoC UK 2021 – evaluation design and priorities
the participatory nature of arts and culture interventions across social capital.
It reveals mechanisms of change that successfully generate wellbeing outcomes through participatory arts and culture:
relational and creative processes in participatory art practices are key pathways to wellbeing improvement
social contexts can enhance the potential for improving wellbeing.
It explores the approach used by Coventry UK CoC 2021:
wellbeing and cultural participation
the Caring City programme
capturing impact.
Conclusions
Cultural events should be seen as long-term projects and there must be a greater commitment to capturing the duration of effects, as well as to exploring the longer-term legacy effects of mega-events.
This requires a step change in the quality of evaluations that explore the drivers of wellbeing in place-based arts, culture, and heritage interventions more generally.
Future research must generate and disseminate high quality evidence on the impacts of cultural policy. It must delve into the mechanisms of change through which strong social networks may be built and well-functioning and close-knit communities sustained.
Acknowledgements