AHRC Place-Based Knowledge Exchange Project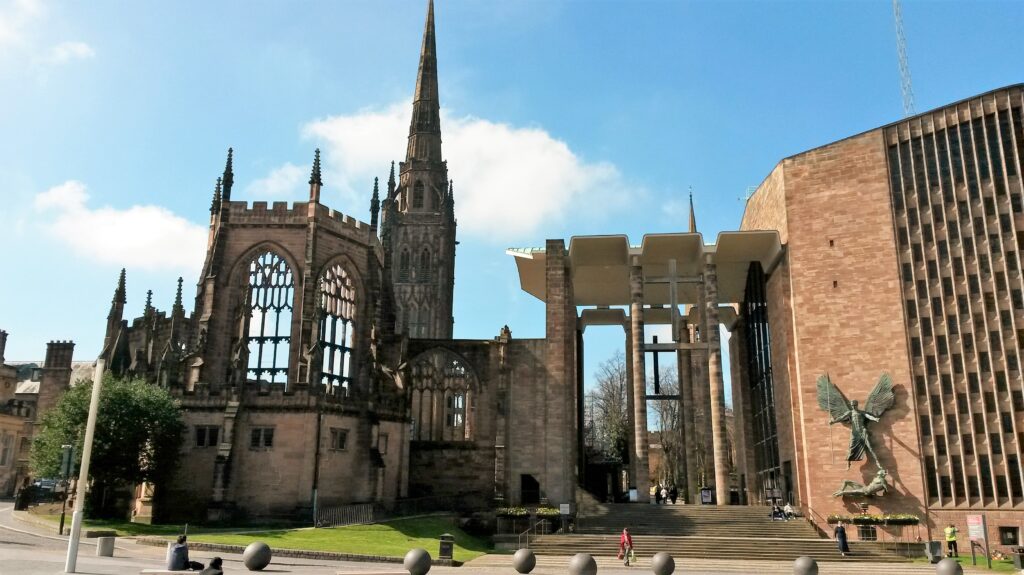 Coventry's Cathedrals (Photograph: Tim Hammerton)
City Change Through Culture: Securing the Place Legacy of Coventry City of Culture 2021
This place-based knowledge exchange project, led by Coventry University, received funding from the Arts and Humanities Research Council (AHRC), part of UK Research and Innovation. Project co-investigators and partners were the University of Warwick, Coventry City Council, Coventry City of Culture Trust and the Department for Digital, Culture, Media and Sport (DCMS).
It was one of nine grants awarded as part of the AHRC's wider place-based programme, managed by the University of Glasgow, which had three main aims:
build a programme around new knowledge exchange projects and existing investments in place
demonstrate the effectiveness of arts and humanities research for addressing the needs of different locales
make the case for further investment
Professor Rebecca Madgin, Programme Director for the AHRC's Place Programme, introduced the theme:
Place is the foundation stone of individual and collective life, a geographic location and a repository of emotions, experiences, meanings, and memories. Places are where life courses are shaped, social networks are formed and the site of lived and felt experiences. 
Place matters: the arts and humanities and the place agenda – UKRI
Approach
The Coventry place-based knowledge exchange project utilised the partnerships and relationships formed through the development and delivery of Coventry's year as UK City of Culture (UK CoC 2021). It contributed towards the evaluation and sharing of results to ensure that knowledge was exchanged to enable the benefits and impacts of cultural activities to be recognised.
It supported the exchange and dissemination of research materials and results (including through the development and management of this website that is designed to bring everything together in one place) to examine whether UK CoC 2021 made a (lasting) difference to the city.
The project was written deliberately to deliver new possibilities of knowledge exchange around the now substantial array of data on cultural activity and participation, City of Culture and the city of Coventry.
Most especially it was written to create new possibilities with and for our place partners outside of the university such as Coventry City Council.
Many of our outputs are deliberately innovative and exploratory – and not without risk – as we continue to seek to exchange, engage and generate new insights and conversations.
Nick Henry, Coventry University. Introduction to the Walking Through Coventry Data event.
Activities
Coventry University and Coventry City Council
Coventry University and the Coventry City Council's Insights Team organised several cultural data knowledge exchange events:
lightning talks for City Council staff/a webinar aimed at the academic community to broaden its awareness of the type of UK CoC 2021 data collected, that included ticketing, cultural participation and sentiment, as well as related attitudes to Covid-19
the Coventry Cultural Challenge made open data available to members of the public and gave them the opportunity to develop evidenced ideas and proposals with the potential 'to make life better in Coventry'
at The Reel Store, interested stakeholders were able to Walk Through Coventry Data and learn about the city in a new way through use of data insights, and photographs and videos of Coventry through the years.
These events raised awareness of knowledge gained and data available, and enabled them to be utilised in new ways, including to inform future strategy and planning within Coventry City Council.
Wider Knowledge Exchange Activities
The knowledge exchange project supported the initial consultation for the Coventry Cultural Compact's mid-term (2022) refresh of the Coventry Cultural Strategy: partners will continue to advise on its future governance structure.
It dovetailed with the City of Culture Transforming Leadership programme, which worked with 15 participants to strengthen and diversify the next generation of leadership for Coventry's cultural and creative sector.
Four Coventry City of Culture Trust commissioned place-based UK CoC 2021 focus studies – Faith and Culture; Environmental Awareness; Business, Civic and Cultural Partnerships; and Volunteering, Wellbeing and Civic Pride – were supported to write their final reports and to hold events to share their results. Their findings have provided rich information and stories that have enhanced the content of monitoring and evaluation reports written for UK CoC 2021 funders.
The knowledge exchange project also identified and shared further research that has taken place in relation to Coventry and UK CoC 2021, including findings from PhD theses, such as Headphone Verbatim Theatre.
With so many images, videos and assets generated during the UK CoC 2021 year, work was undertaken to catalogue and store them within the Coventry Digital archive, including adding searchable keywords and metadata.
The Cities of Culture: A Model of Evaluation insights article explains how a university-supported place partnership has generated city of culture legacy around research, evaluation and evidence.
The final project output was an animated series of reflections from the monitoring and evaluation of UK CoC 2021. Key points were identified by the team, which were incorporated into a script, with each member recording a section. Animation was provided by Yikki Studio Ltd.
A legacy of the work undertaken is that Coventry University has invested in a new research centre. The Centre for Creative Economies will maintain the university's active role in working with place-based partners.