The Caring City Programme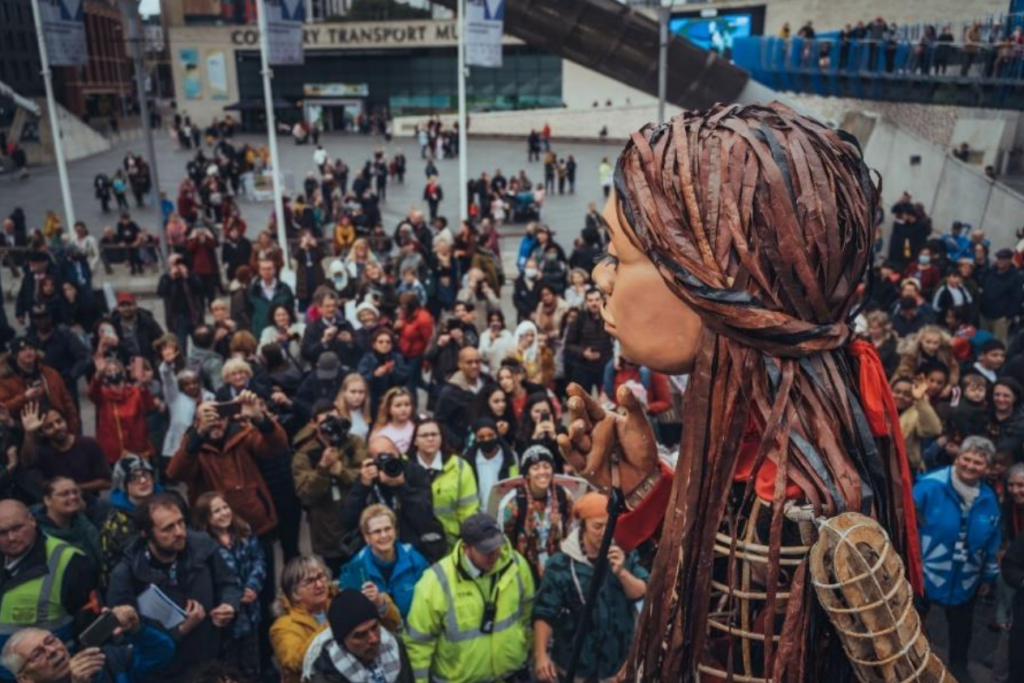 Report
The Evaluation of the Caring City Programme report was published in March 2023. It covers the period from the award of funding from Spirit of 2012 in early 2019 up until the end of May 2022. It therefore includes the planning and delivery stages of the programme.
The notion of the Caring City was born shortly after Coventry was awarded the UK City of Culture 2021 (UK CoC 2021) title in December 2017. Focusing on the city's seldom-heard communities, a collaborative model was designed to address issues such as food poverty, immigration, environmental action, homelessness and loneliness
The programme was created for real people, based on their experiences, hopes, struggles, triumphs, ideas and most of all their stories.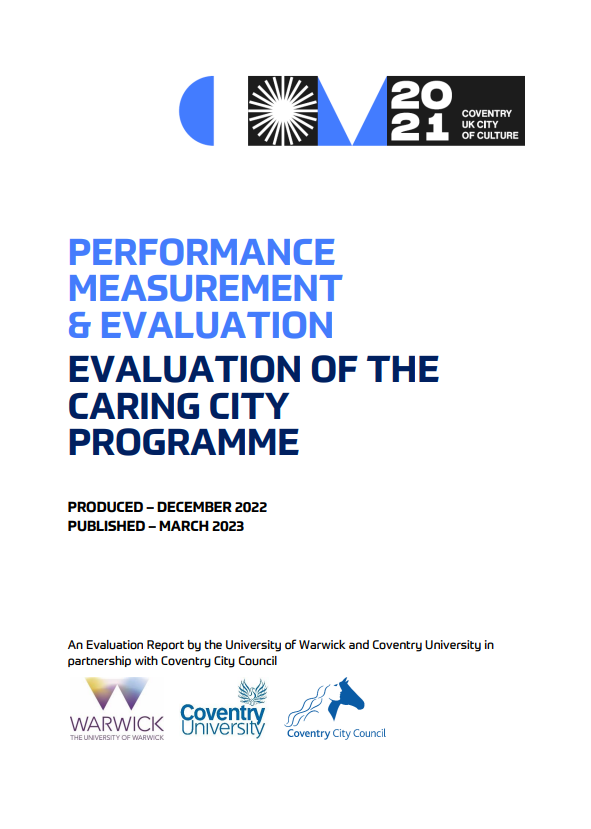 The Programme
The Coventry City of Culture Trust embedded associate producers into third-sector organisations working with seldom-heard groups to develop and deliver community projects across the city. The four partner organisations for the Caring City were:
The objective was to demonstrate the positive impact that arts and culture can have on beneficiaries, ultimately leading to improved wellbeing within cohorts and better social cohesion across the city.
Partnership working was the key to reaching beneficiaries. Without the host organisations, reaching the targeted groups and citizens would have been difficult.
Summary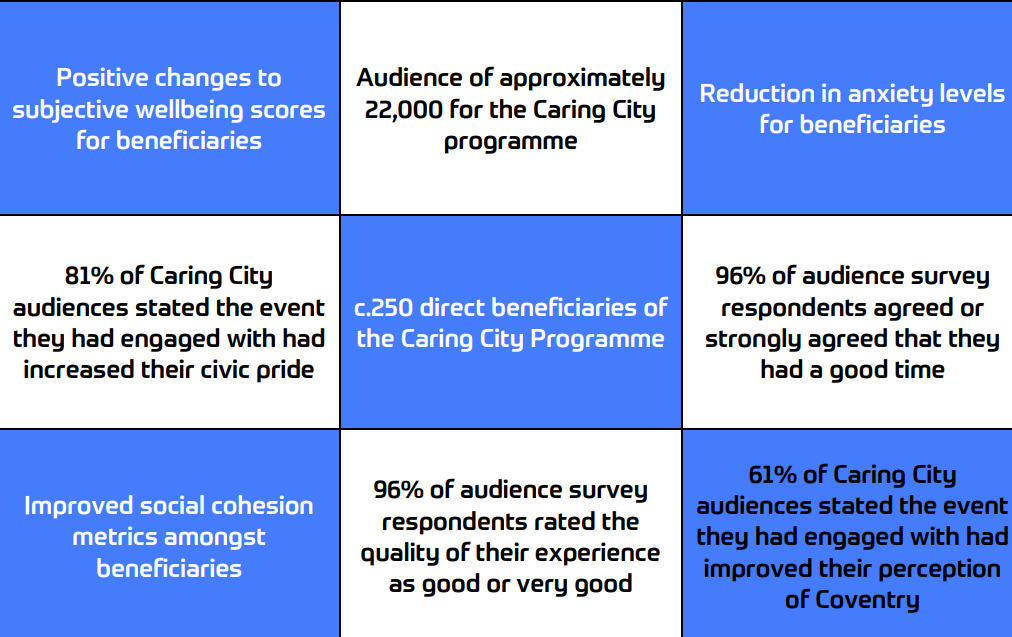 The Caring City Programme: Headline Statistics
Unfortunately, due to the pandemic, the programme only reached around 250 beneficiaries and approximately 22,000 in audiences.
From the calendar of events held, highlights include Crash Course in Cloudspotting, the CVX Festival, Theatre of Wandering, HOME: Arts and Homelessness Festival, The Walk – Coventry Embraces (featuring Little Amal) and Coventry Welcomes.
The beneficiary experience was a positive one, as many took part in multiple projects and had a deep level of engagement across the Caring City programme and other UK CoC 2021 events.
Conclusions
The Caring City programme had a positive impact on its direct beneficiaries in quite profound ways. Positive changes to mental wellbeing, reduction in anxiety levels, positive indicators of increased social connectedness, and increased connections to others are evident.
Evaluation of the Caring City Programme report, page 55
There is evidence that long-term projects that celebrate the lived experience and make beneficiaries feel that they are valued and able to drive change in the city can generate high returns on investment in relation to social value.
Issues such as food poverty, immigration, environmental action, homelessness, and loneliness were approached and tackled by the programme in sensitive and meaningful ways through the use of arts and culture.
Since the end of the programme, organisations in the city are working in different ways. Culture is being used as a driver for social change and it is hoped this will continue into the future.