Cultural Policy & Evaluation Summit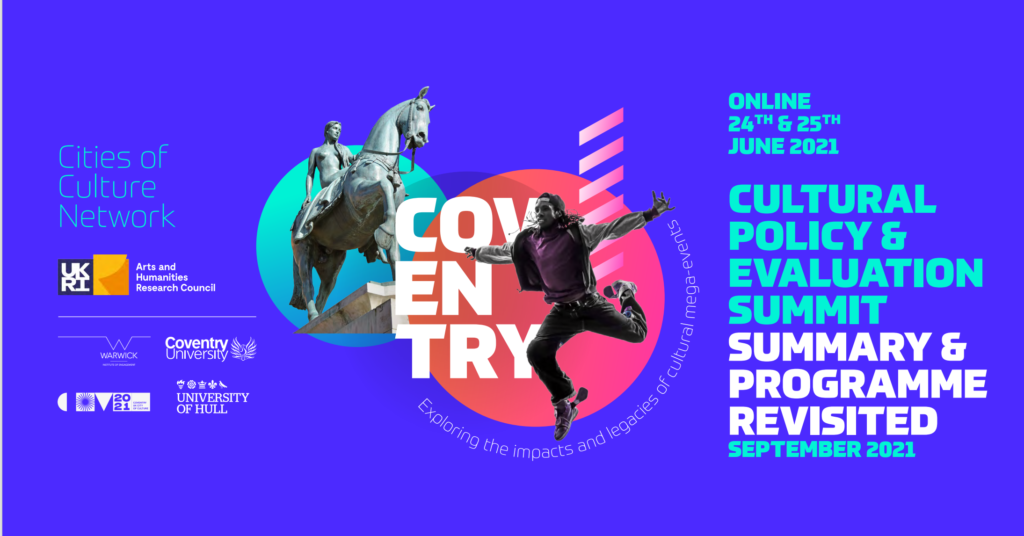 Objective
The Cultural Policy & Evaluation Summit was designed to bring together local, regional and national cultural leaders to consider the post-pandemic road ahead for cultural mega-events and culture more generally in the context of Coventry UK City of Culture 2021 (UK CoC 2021).
When
The online summit was held on 24 and 25 June 2021.
Description
Within the summary report, John Knell, the summit's rapporteur, described the event as having been like a three-act play:
Act One was about whether Coventry City of Culture 2021 is a different and distinct City of Culture model, and if it is, why might this matter?
Act Two was a rich, disruptive, but ultimately crystal-clear discussion about what it means to deliver a mega cultural event in changed times – in a moment of great disruption – when questions of equality, diversity, inclusion now feel paramount, rather than just urgent. What are the lessons from Coventry for all cultural leaders and organisations trying to deliver irreversible change?
Act Three was about what the road ahead needs to look like if we are to meet the challenges expressed in Act Two. What does this mean for our purposes, our practices, our evaluation methods, and for individual acts of creative transgression?
John Knell – Cultural Policy & Evaluation Summit Report
Programme
The programme included a rich list of themes and speakers that can be found in the summit agenda.
Both days were recorded and links to each session are available within the summit's summary report.