Verbatim Theatre: an Innovatory Method for Policymaking
The Report
This report describes the use of Headphone Verbatim Theatre (HVT) as an evaluation tool for capturing citizen experiences.
HVT is a method of data gathering that involves a performance created solely from the words spoken by interview participants. It responds to the challenges faced by policymakers around incorporating citizen experiences in policy design and evaluation.
After identifying the problems that policymakers currently face in capturing the voices of citizens, the report outlines the method of HVT and summarises its key benefits.
The report shows how HVT was used to gather feedback on 'place and pride' during Coventry UK City of Culture 2021 (UK CoC 2021) and how this form of evaluation through a live performance can offer an effective and emotive connection between citizens and policy makers.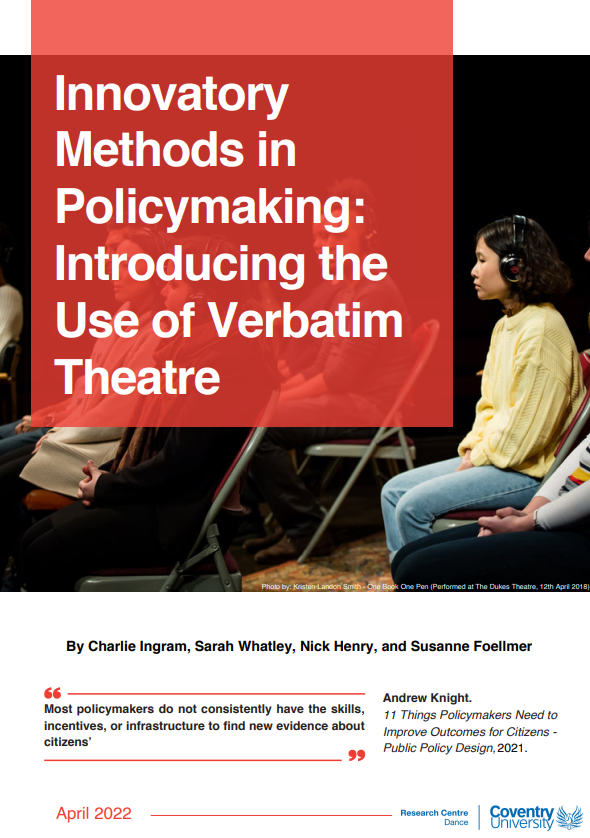 It is argued that policy solutions are too often based on stakeholder opinion, and rarely are the voices and experiences of citizens used to evidence policymaking. Therefore, policy engagement methodologies as the basis of evidence gathering are themselves generating 'marginalised groups', 'the seldom heard', and creating barriers to access for citizens.
Policymakers are not effective in speaking with diverse groups of people. Capturing evidence of the citizen experience is difficult for policymakers. Opinions of citizens are not satisfactorily being heard in current policy solutions.
Approach
HVT is a theatre performance art form. It is described as a performance created solely from the words spoken by interview participants. Interview data is collected by the researcher and then edited (in agreement with the participant) into a performance based around a theme, subject matter or event.
In the context of policy evaluation, the research data collected can be framed around the policy aims and objectives of an intervention with questions being asked of the beneficiary and/or participant – such as a citizen. The performance offers an effective and compelling alternative to written reports, quotes, figures or tables.
Key Benefits
There are many benefits of the HVT approach such as hearing citizen's voices and engaging stakeholders, as well as for policy research infrastructure. Some of these include:
placing the voice of participants at the forefront of the evaluative product, while preserving anonymity
transmitting the lived experience of service users and project beneficiaries in a highly nuanced, engaging, and insightful manner
providing access to knowledge that can add and contribute further to existing policymaking practices that would otherwise have gone unnoticed
scalability, whereby the number of participants, geographical areas, number of projects, and project timelines can be tailored to the needs and budgets of evaluators.
Headphone Verbatim Theatre and Coventry City of Culture
HVT was used to investigate citizens' levels of civic pride towards their hometown, as this was an expected impact of UK CoC 2021. This was to give value to the voices of residents of Coventry and place them at the forefront with regards to evidence and evaluation.
Throughout 2021, ten citizens that had taken part in the UK CoC 2021 programme were interviewed. An audio script was created based on the exact words of the participants, which actors repeated as exactly as possible.
The performance was presented live at the Centre for Dance Research at Coventry University on 26 November 2021 to an audience of evaluation professionals, academics and those who worked within the UK CoC 2021 delivery team.
It's effective in providing access to knowledge and personal stories that would otherwise have gone unheard.
This has given permissions to people who have knowledge who would not otherwise feel able to reveal.
It brought the personality, the human story… bringing the person into the room… what is so often lost in research.
Performance feedback, 26 November 2021
Summary
Through HVT, the citizen's voice is communicated through the directness that can be found in the specificity of a live performance via actors. By presenting research data in this way (rather than through written word, film, or other creative medium), HVT creates a much more direct connection between the audience and the contents of the citizen interviews.
By focussing on the human story behind the research data, this method provides a greater understanding of the citizen experience than that which is accessible by the usual roster of methods used.
Acknowledgements
Charlie Ingram used Headphone Verbatim Theatre as part of his PhD at the Centre for Dance Research (C-DaRE), Coventry University.
Alongside Charlie Ingram, co-authors of the report were Professors Sarah Whatley, Nick Henry and Susanne Foellmer.