Coventry Cultural Challenge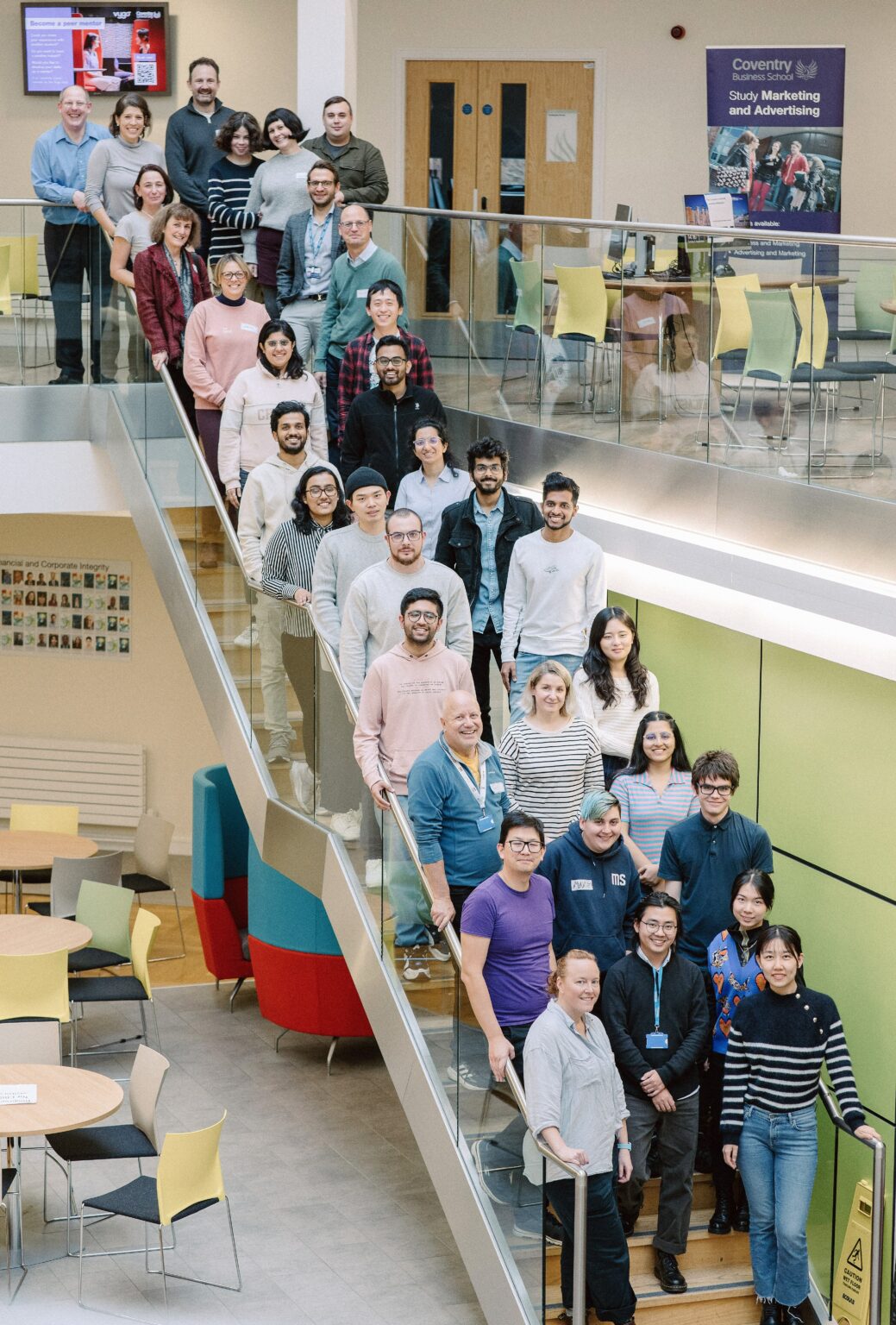 Coventry Cultural Challenge attendees (Photograph: Maria Polodeanu, Reel Master Production)
Make Life Better In Coventry
Following its year as UK City of Culture, Coventry became a rich place for cultural data.
How could these data be used to define concepts and ideas that could 'make life better in Coventry'?
Teams were invited to share their knowledge and creativity, and further develop their skills.
Objective
The Coventry Cultural Challenge provided a rare opportunity, as interdisciplinary teams were given unprecedented access to local big data, including from Coventry's year as the UK City of Culture 2021 (UK CoC 2021).
During the weekend of 5 and 6 November 2022, at Coventry University's Jaguar Centre, teams were asked to develop creative and innovative ideas/proposals that had the potential to 'make life better in Coventry'.
The Challenge sought ideas/proposals that:
were forward-looking
were underpinned/evidenced by the data
had thematic links to culture
had the potential to 'make life better in Coventry'.
Links to pages outlining the ideas and proposals of each team, most with video, are available below.
A Coventry Cultural Challenge guide provided further information relating to the event.
Culture and heritage is so often undervalued, but it can be really beneficial for communities and society, to bring people together for an appreciation of who they are.
Tim Hammerton (video)
Participants
The Challenge brought people together who would not ordinarily meet, to share knowledge and spark new ideas.
Applications were welcomed from both teams and individuals from different backgrounds including (but not limited to):
those working within the cultural sector – people leading, working or volunteering within the cultural sector
those familiar with data – analysts, data scientists, academics, students or people with industry experience
coders – people with ICT and coding expertise including academics, students or people with industry experience.
Individuals who joined alone were matched with others to form multi-disciplinary teams.
Teams and Presentations
Five teams took part in the Coventry Cultural Challenge; each developed and presented an idea to 'make life better in Coventry'. Pages have been created for each team that include details of their proposals:
A fulfilling amazing weekend with a group of creative and talented people! It's my pleasure to participate in Coventry Culture Challenge.
Here I not only drilled down into the data and found forward-looking insights to 'make life better in Coventry' together with my team, but also had a reflection on how people of different backgrounds form an excellent team and diversified mindsets benefit teamwork all along.
Great job Data Slackers Team! It's our glory to be the winners🥇 Many thanks to the dedicated organizers, judge panels, and my collaborative team members:)))
Data
Datasets made available to participants included:
Coventry Household Survey 2018, 2021 and 2022 – including cultural participation variables
Exit surveys from UK CoC 2021 events
Ticketing data from UK CoC 2021 events
UK City of Culture Sentiment Survey 2022
CACI Ltd's ACORN and Paycheck data (household income at postcode level)
These were primary data that were both real and granular and enabled reflection on UK CoC 2021 and other aspects of Coventry life.
The Coventry Cultural Challenge is very much about using all that amazing data and evidence that we generated through the UK City of Culture programme, as Coventry 2021/2022, and trying to use it in a way that 'makes life better in Coventry'.
Si Chun Lam (video)
Jury Members
A panel of independent jury members evaluated the final Challenge presentations from each team to select those with the best ideas.
I have really loved the Cultural Challenge today. I think some of the new thinking and the new ideas that have come out of the groups has been really, really thought-provoking and insightful.
Sarah Windrum (video)
What I would do is take those ideas to a forum where we could specifically invite partners that work in the various interest sectors that the groups have talked about, as well as cultural providers who might have an interest, and really bash through some of those ideas about how we turn them into real practice.
Clare Mitchell (video)
Images from the Coventry Cultural Challenge (Photographs: Si Chun Lam and Tim Hammerton)
The SWOT analysis helped teams to think about their ideas in relation to Coventry.