Culture and Place in Britain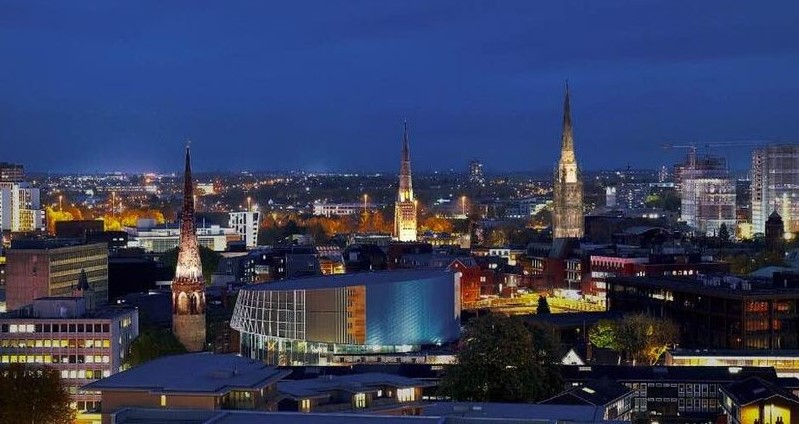 Coventry skyline (Photograph: Coventry Telegraph)
About
The Culture and Place in Britain report was published in February 2023.
It was produced by Key Cities, in partnership with Arts Council England, to review culture policy and data in urban areas across the UK, with particular focus on the 27 member cities of the network. One of those cities is Coventry.
Key Cities is a diverse, national network of 27 cities that represents urban living in the UK and has the range, expertise and agility to deliver innovative solutions for the challenges we face.
With cities of all shapes and sizes all around the country, Key Cities is the non-partisan network that reflects and represents urban living in the UK. A diverse and national network formed in 2013, it provides an authoritative voice and alliance of shared interests right across the country.
Key Cities can help Government deliver on its policy aims. The network is central to the levelling up and devolution agendas and has strong engagement with Government Ministers and Departments, and runs a successful All-Party Parliamentary Group.
Members include some of the fastest-growing local economies in the UK, producing ideas, research and engagement to drive prosperity and a good standard of living and environment for all.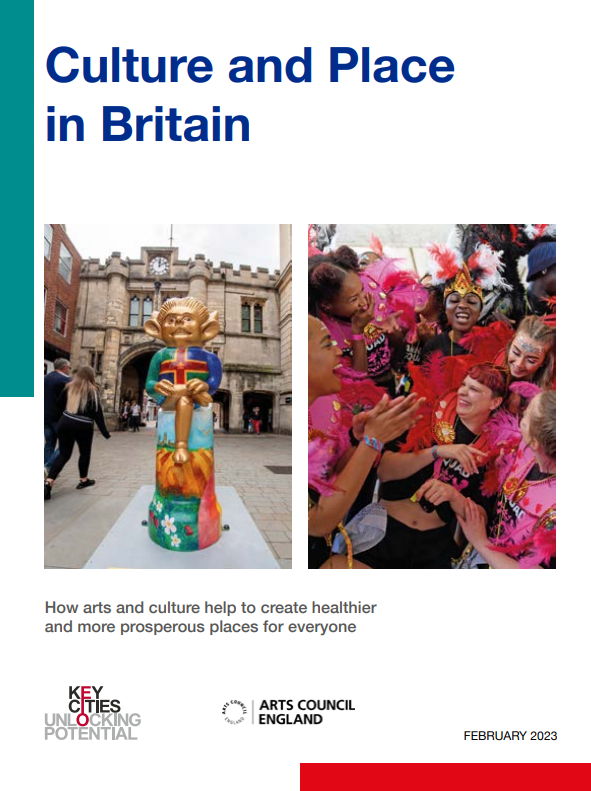 Scope
Eighteen cities, including Coventry, took part in a survey on culture policy conducted in February 2022 and refreshed in September 2022.
Twelve priority areas were identified by participating cities. These (in order) are Regeneration, Placemaking, Skills, Town Centres, Growth, Jobs, Communities, Outreach, Identity, Wellbeing, the Night-Time Economy and Heritage.
For Coventry, Community and Hard-to-Reach are listed as particular priorities.
The report compares the approaches adopted by cities relating to cultural investment, the operation of Cultural Compacts and the development of cultural strategies, as well as against a range of cultural data. These approaches are further illustrated by articles written by representatives offering local insights.
Report Recommendations
The report recommends that the Government invest £100m in the development of creative industries microclusters outside the existing Creative Clusters. It proposes putting culture at the heart of a renewed drive for hyperlocal devolution to empower communities and drive local growth.
Key Cities recommends that Government:
places culture at the heart of a renewed drive for hyperlocal devolution, connecting policy agendas to make sure that all places in the UK, both within and outside mayoral combined authorities and creative clusters, are empowered and supported to drive local growth
through AHRC working with Arts Council England establishes a £100m nationwide development programme for creative industries microclusters outside Creative Clusters
develops further programmes alongside Levelling Up for Culture Places and Creative People and Places working across policy areas aimed at patient building of ecosystems and scaling-up capacity needed for deprived areas to compete
supports local authorities to enable public libraries to continue evolving their offer to meet local need, and to continue providing free public libraries as an essential service supporting local communities
through Arts Council England funds the establishment of a cooperative platform for and owned by Cultural Compacts to promote collaboration, knowledge exchange and best practice.
Key Cities recommends that Key Cities and Arts Council England:
collaborate to promote development of Cultural Compacts as genuinely cross-sector partnerships, working out the need and the potential for culture to improve their places and to feed into the wider strategy of a place
catalyse and support development of strategic programmes and networks across places which have shared cultural priorities to explore cultural collaboration and knowledge exchange, not only within the UK but also, with British Council, between regional towns and cities across Europe and further afield
collaborate to develop the existence of a well-functioning Cultural Compact as a quality mark for public and private sector place-based investment.
Key Cities Innovation Network and Arts Council England:
collaborate to develop models and frameworks for better and internationally comparable data about the benefits of culture for people and places.
Key Cities Innovation Network and the Creative Industries Policy and Evidence Centre (PEC):
establish a joint study into the potential and strategies for creative-led inclusive growth in all parts of the country.
Key Cities work with the Key Cities Innovation Network:
to develop new models for monitoring, evaluation and longitudinal research into the contribution of culture to place-based development, including models for optimal data collection to suit both hyperlocal and generalised needs.
Member Cities (and cities and towns more widely):
share best practice models of community engagement that can better connect diverse communities, encourage meaningful civic participation and build community cohesion
use their convening power to continue developing and empowering cross-sector Cultural Compact partnerships as key drivers of their cultural strategy, taking into account the learnings of the Cultural Compacts and Creative People and Places evaluations.
Acknowledgements
The Culture and Place in Britain report was written and edited by Kasper de Graaf, programme director of the All-Party Parliamentary Group on Key Cities and of the Key Cities Innovation Network, together with contributions from city representatives and other researchers.
The section on Coventry UK City of Culture 2021 was written by Professor Nick Henry, Coventry University.