Future Trends: Innovations in Economic Impact Assessment and Future Directions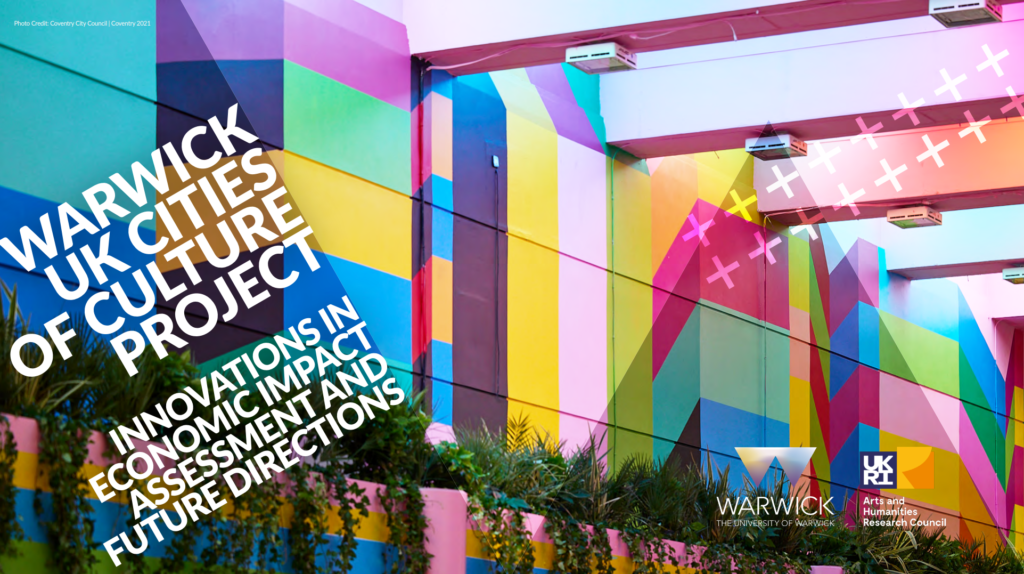 Innovations in Economic Impact Assessment and Future Directions
Future Trends Series
The Future Trends series explores different aspects of Coventry UK City of Culture 2021 (UK CoC 2021). It aims to provide accessible, research-led accounts of issues related and relevant to the development of the UK City of Culture programme.
The paper was released in December 2022.
Summary
Within UK public policy, economic impact assessment (EIA) has been a long-run mainstream staple for assessing the benefits to society of a policy intervention. It has thus supported learning and policy design.
UK CoC 2021 has sought to use an innovative approach to EIA to gain a more complete and better-grounded understanding of the benefits generated by the cultural mega-event. The aim has been to support learning and the development of good practice in the use of non-reductive valuation frameworks within the cultural and heritage sphere.
In 2021 the Department for Digital, Culture, Media and Sport (DCMS) published its Cultural and Heritage Capital (CHC) Framework, which aims to allow the full value of arts, culture, and heritage to be recognised, including in EIA. This study outlines how this EIA approach may be considered in relation to the new DCMS Cultural and Heritage Capital Framework.
The Future Trends paper explores:
the background to economic impact assessment
widening of the scope in EIA and recent developments
economic impact assessment in the context of UK City of Culture
an economic impact framework for Coventry, UK CoC 2021
the Capitals and the Culture and Heritage Capital Framework
mapping of the UK CoC 2021 approach onto the DCMS CHC Framework.
Recommendations
Recommendations from this paper include:
the need for ongoing development of taxonomies of services and associated benefits
the use of the capitals model in conjunction with stakeholder analysis; capitalising on and nudging a greater convergence between the social value measurement and economic valuation undertaken in the context of UK CoC 2021
residual value and opportunity cost: where an asset has been created and has a value at the end of the evaluation (or appraisal) period, this should be included within the Framework. Similarly, the opportunity cost of any assets should be considered
externalities: these refer to the cost or benefit of an economic activity experienced by an unrelated third party e.g. the external costs of transport associated with an event
additionality: the framework would benefit from greater discussion of the issue of additionality, which is fundamental to any evaluation or appraisal.
Acknowledgements