Traditional and Digital Broadcasting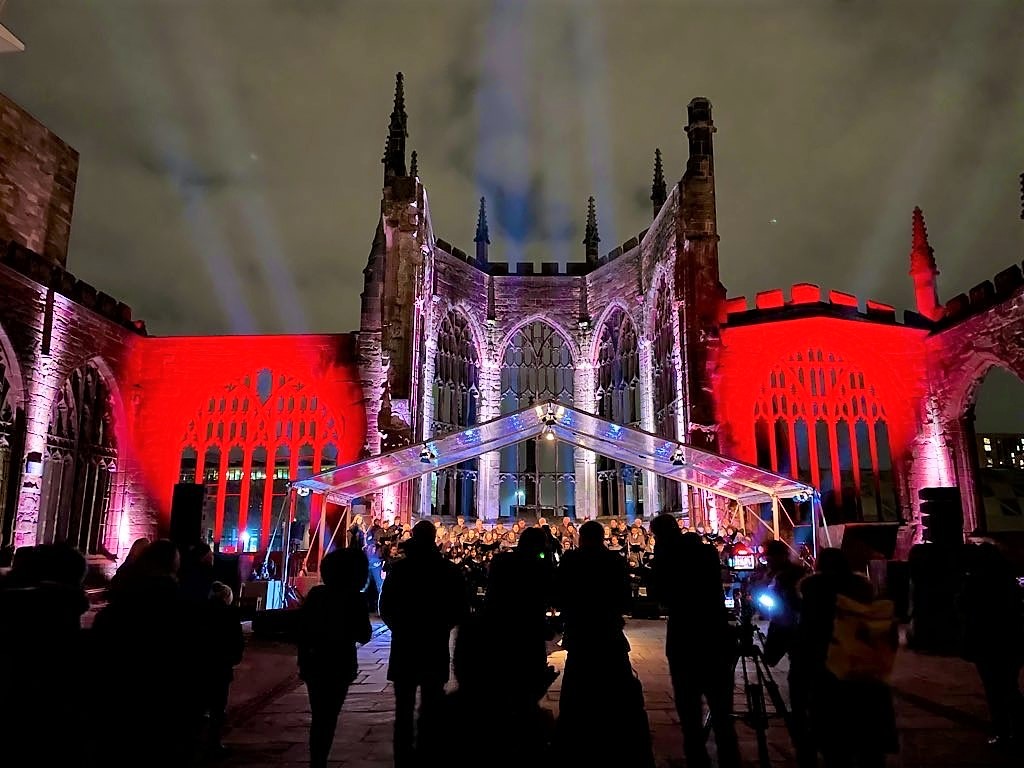 Ghosts In The Ruins Camera Rehearsal (Photograph: Mark Scott)
Background
The Broadcast Evaluation report was published in March 2023. It was commissioned to conduct an evaluation of all broadcasting that occurred as part of the Coventry UK City of Culture 2021 (UK CoC 2021) year.
UK CoC 2021 was affected by the Covid-19 pandemic, as consecutive lockdowns placed significant constraints on the Coventry City of Culture Trust's ability to conduct events with a live audience.
However, this presented an opportunity for broadcast to play a greater role in ensuring that audiences locally, nationally and internationally were able to participate in the programme.
There were two strands to the Trust's broadcast programme; each with its own objectives and outputs. The first was traditional, involving television, radio and web, with the second taking a digital approach that used social media, live streaming and podcasts.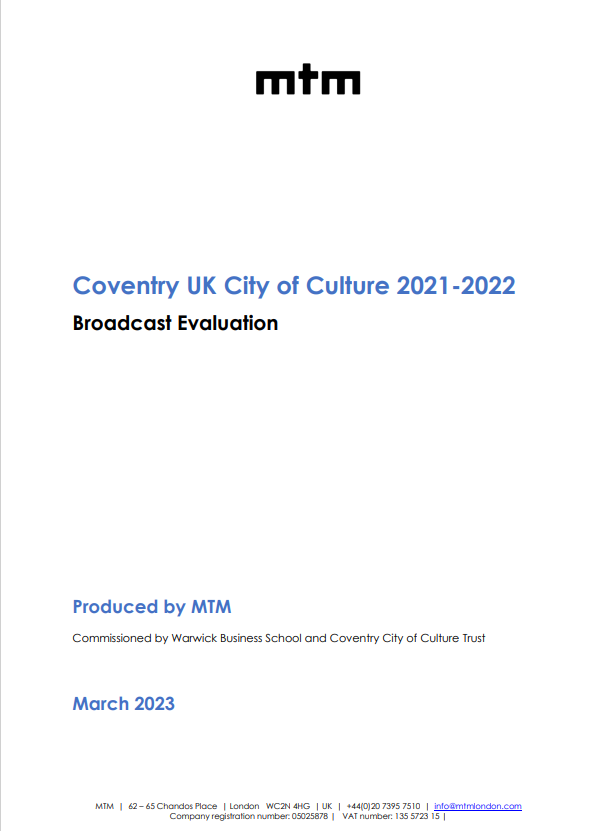 Approach
UK CoC 2021 embedded broadcast across its creative programme to ensure that people could engage with the story of the city, its people and its place. A comprehensive broadcast programme enabled the Trust to:
facilitate coverage of live events
extend the reach of the City of Culture
increase community engagement (especially communities outside of Coventry, and those harder to reach)
increase the public value of City of Culture events and content
increase representation of Coventry nationally and internationally.
Co-productions and collaborations with independent producers, cultural organisations and broadcasters were a key feature of UK CoC 2021.
This was a notable departure from previous Cities of Culture, as neither Hull nor Derry took an editorial or rights stake in their work with broadcasters. There were economic and editorial advantages to this funding model, such as ensuring a say in the production process and securing rights to the onward distribution of broadcast content.
Traditional Broadcasting
The traditional strand consisted of programming and live coverage, as well as research and development work with major broadcasters. Some offerings were fully funded by broadcasters and others comprised editorial co-commissions, co-productions and acquisitions.
The Sky Arts partnership was a first for a UK City of Culture, providing fully funded support and leveraging their existing propositions to promote Coventry and UK CoC 2021. The BBC was involved on a wider scale, developing the 'COV' approach to encourage broadcast teams at the BBC to identify potential opportunities for news and features.
Sky had never worked to throw all their resources to show a moment. The fact that they did for Coventry felt like they really cared about the city…The BBC put all its resources into Coventry, which was pretty amazing. I think moving forwards, every city of culture needs to think about how the BBC can flex its muscle to help emphasize and increase the priority of culture in the broadest sense.
Gill Johnson, Creative/Business Consultant.  (Broadcast Evaluation report, page 18.)
There were nine original commissions across the BBC and Sky Arts:
A significant number of viewers were reached in the UK and beyond (over 100 million reach on BBC linear TV channels, over six million iPlayer requests and a 376,000 reach on Sky Arts).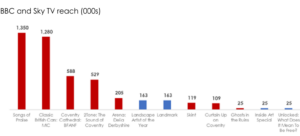 Digital Broadcasting
The digital strand was overseen by the Trust's Marketing and Communications department, and was aligned to audience development. It primarily created content for digital and social media platforms.
A significant digital footprint included 82,500 followers across Facebook, Instagram, YouTube and Twitter, with over 7.6 million video views on Facebook and YouTube. However, these figures were lower than those for Hull, UK CoC 2017, largely due to a delay in appointing a social media manager.
One of the pitfalls was not setting a clear digital strategy from the beginning. It felt as though there was no clear plan, and a lot of marketing and digital content created was on-the-fly ideas. A clear digital content and marketing strategy should be articulated at the very start of the programme…Managing the execution of the marketing strategy is pretty much a full-time job that should be separate from the more creative production side.
Hayley Pepler, Head of Broadcast & Digital Content, Coventry City of Culture Trust.
(Broadcast Evaluation report, page 49.)
Key outputs from the digital strand included:
Social media content – behind the scenes footage and 'the making of' moments.
Live streamed content including The Walk that featured 'Little Amal', a 3.5 metre tall puppet of a young refugee girl, arriving in Coventry.
Commissioned programmes, including:

Ghost in the Ruins which marked the 60th anniversary of Coventry Cathedral and featured music and projections of archive imagery, and poetry.
Seaview, an original drama film series co-commissioned by the Trust and created, directed and produced by the Belgrade Theatre.

Podcasts marking International Women's Day and the Made in the Midlands series that explored regional identity.
The digital strand was hugely valuable in its ability to reach and engage audiences (both in and outside of Coventry), and to spread the messages and stories of UK CoC 2021.
Wider Impacts
UK CoC 2021's coverage contributed towards increasing representation of the West Midlands on national broadcast platforms. Broadcast investment in, and coverage of, the region has historically been very low.
It provided opportunities, as emerging local talents achieved their first broadcast commission and appearances.
Coventry's broadcast programme supported the organisational and individual development of arts leaders in Coventry through broadcast commissions and benefits (i.e. gaining experience, understanding and boosting confidence).
Broadcast mentorship and training sessions provided young people in Coventry with an invaluable opportunity to develop related skills, and to learn about careers in broadcasting from experts in the industry.
[The broadcast programme] has had a huge impact. Some of the people we worked with now feel that they have the confidence and skills and credits on their CV so that they can go forward and forge creative careers…The impact on the local economy that will drive an ecosystem of creative industries in Coventry, that has had a big impact.
Hayley Pepler, Head of Broadcast & Digital Content, Coventry City of Culture Trust.
(Broadcast Evaluation report, page 51.)
Acknowledgements
The Broadcast Evaluation report, researched and written by MTM, was commissioned by Warwick Business School and Coventry City of Culture Trust.
Digital videos captured as part of UK CoC 2021 have been passed to Coventry Digital.